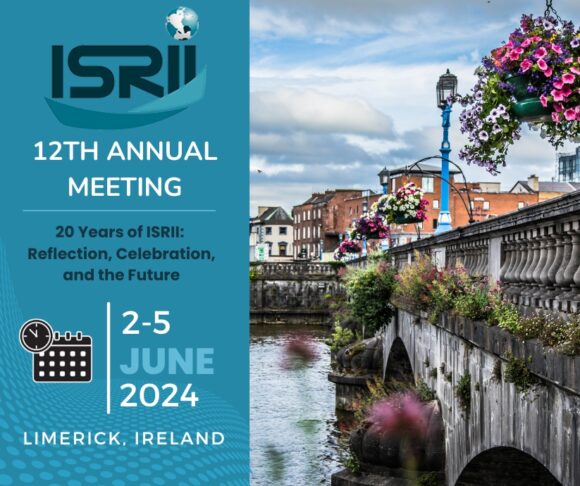 The International Society for Research on Internet Interventions (ISRII) invites the submission of innovative, high quality research that advances the field of eHealth interventions. ISRII, founded in 2004, promotes the scientific study of information and communication technologies targeting behavioral, psychosocial, health and mental health outcomes. These "Internet interventions" are broadly inclusive of existing and emerging technologies, including, but not limited to, the web, mobile and wireless devices and applications, virtual and augmented reality, wearables and passive sensing, and robotics, with areas of focus such as machine learning, human-computer interaction, implementation science, health economics, health equity, and commercialization and real-world dissemination. ISRII members include researchers, clinicians, engineers and computer scientists, informaticists, software developers, economists, and policy experts across the public and private sectors, who are committed to fostering excellence in evidence-based eHealth interventions.
The theme of this year's meeting is "Twenty Years of ISRII: Reflection, Celebration, and the Future." This deliberative, commemorative and farseeing program will span basic design and development, clinical trials, integration of digital health interventions into healthcare delivery systems, dissemination (distribution and marketing), diversity and inclusiveness and policy implications. The goal is to generate vibrant discussion and collaboration both within and across all of these areas.
Deadlines
In an attempt to help address concerns of those who need additional time to request travel, there will be two rounds for abstract submissions. If you need to have a decision before the end of 2023, be sure to submit by the first submission deadline of October 29, 2023. Please note there will be no extension to this deadline. Otherwise, be sure to submit by the second submission deadline of February 2, 2024 for notification by March 10, 2024. There are no advantages to submitting early other than obtaining notification early. Equal consideration will be given to all abstracts regardless of submission date.
Submission Round 1: DEADLINE PASSED
Notification of Acceptance by December 10, 2023
Submission Round 2:
Round 2 submission will be open from January 2 - February 2, 2024.
Notification of Acceptance by March 10, 2024